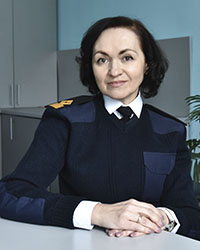 Head, English Language Department for Marine Engineers
Graduated from Kherson State University in 1996 with a degree in Foreign Languages ​​and qualified as an English teacher.
Since 2008 she is a Candidate of Pedagogical Sciences in the specialty: 13.00.04. – Theory and Methods of Vocational Education.
In 2011 she received the title of Associate Professor of English Language Department.
She teaches the disciplines "English for Professional Purposes" and "Business English".
Pedagogical experience in higher education is more than 28 years.
She is a co-author of 4 tutorials, has published more than 25 scientific and methodical works, more than 60 publications (3 of which are co-authored in the journals of Scopus scientometric database, and 25 in professional publications of Ukraine, the rest – publications in conference proceedings on all-Ukrainian and international level).
Research interests: technologies of deep learning of maritime English in the conditions of distance education.
Advanced training or internship: Institute of International Relations of the National Aviation University (Kyiv), 2015; Department of Theory and Practice of Branch Translation, Kherson National Technical University, 2016; Pearson 20 years in Ukraine seminars and workshops "New Generation Education: Informed Teaching, Enhanced Learning", KNUTE (Kyiv), 2017; International 216-hours internship at the Lithuanian Maritime Academy, Klaipeda, 2019; International TESOL / TEFL professional teacher development, Kyiv (May 2019), Lviv (November 2019); advanced training course "Development of an electronic course in the discipline based on LMS MOODLE using e-learning tools and services", Teacher's Professional Development Centre, 2020.
ORCID: https://orcid.org/0000-0001-7952-9895
Google Scholar: https://scholar.google.com/citations?user=QLU3SyUAAAAJ&hl=ru