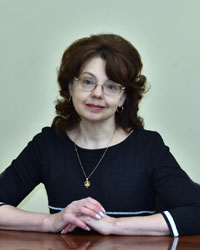 PhD, Associate Professor, English Language Department for Marine Engineers
Graduated from Kherson State Pedagogical Institute named after N.K. Krupskaia with a degree in Russian language and literature, English language.
Since 2001 – PhD in Pedagogy, specialty 13.00.02 – Theory and Methodology of Teaching: Germanic Languages.
In 2004 awarded the academic degree of Associate Professor of the Department of Foreign Languages.
Teaches the disciplines "English Language for Specific Purposes", "Business English", "Foreign Language (English) for Academic Purposes". Teaching experience in higher educational establishments – 25 years.
Scientific achievements: more than 150 scientific and methodological works, published in national and international collections of research papers.
Research interests: ESP Active and Deeper learning strategies like Inquiry-based learning, Personalized learning, Blended learning, Experiential or Work-based learning, etc.
Professional development and internship: Further education or internship: Kherson National Technical University, Department of Theory and Practice of Sectoral Translation (2018)
Orcid: https://orcid.org/0000-0003-1831-2275
GoogleScholar: https://scholar.google.com/citations?view_op=list_works&hl=ru&user=ZuhtddUAAAAJ