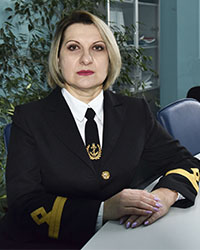 Head of the Department,  PhD in Pedagogy, Associate Professor
She graduated from Kherson State Pedagogical Institute in 1993 with a degree in Physics and qualified as a Teacher of Physics, IT and Computer Engineering.
In 2001 she received a master's degree in physics, astronomy and life safety at Kherson State Pedagogical University.
In 2008 she defended her dissertation and received the degree of Ph.D in Pedagogy, specialty 13.00.09 "Theory of Learning".
Since 2008 she has been working at KSMA as the Deputy Dean of the Navigation Faculty for Academic Affairs, Associate Professor of the Department, Head of the Department.
Teaching disciplines: physics.
Author of many scientific publications, methodological developments and recommendations, among which the textbook recommended by the Ministry of Education and Science of Ukraine for students of higher pedagogical educational institutions.
https://scholar.google.com.ua/citations?hl=ru&user=ShuxGAkAAAAJ&view_op