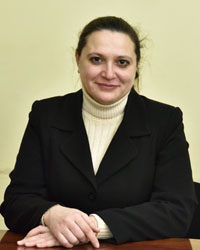 PhD, Higher Education teacher, English Language Department for Marine Engineers
Graduated from Kherson State University with a degree in the English language and foreign literature, 29.06.2004
Graduated from Kherson State University with a degree in the German language and foreign literature, 27.06.2008
Since 2016 – candidate of pedagogical sciences, specialty 13.00.04 – Theory and Methods of Vocational Training
Teaches the disciplines "The English Language for Specific Purposes", "The English Language for Marine Purposes". Teaching experience in higher educational establishments – 11 years.
Scientific achievements: more than 30 scientific and methodological works, published in national and international collections of research papers.
Research interests: ESP Active and Deeper learning strategies like Inquiry-based learning, Personalized learning, Blended learning, Experiential or Work-based learning, etc.
Professional development and internship: Further education or internship: Kherson National Technical University, Department of Theory and Practice of Sectoral Translation (2017); project EU "The Erasmus + Programme of the European Union".
Orcid: https://orcid.org/my-orcid