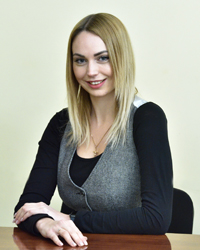 Teacher, English Language Department for Marine Engineers
In 2013 graduated from Kherson State University with a degree in English Language and Literature, receiving a master's degree.
Teaches disciplines "Maritime English" and "English Language for Specific Purposes" for I-IV courses, speciality "Operation of ship power plants".
Teaching experience in higher educational establishment – 6 years.
Research interests: ESP active methods and deeper learning strategies. English marine language, including problem-based learning, personalized learning, blended learning and other types of learning.
Scientific achievements: Yana Usova published more than 10 scientific articles and became a participant of 5 scientific-practical conferences, held 3 methodical seminars.
Professional development and internship: Further education or internship: Kherson State Agrarian University Training and Research Center "Institute of Postgraduate Education and Counseling" at the Department of Foreign Languages ​​(2019)
Goggle Scholar: https://scholar.google.com/citations?user=AEF5z1EAAAAJ&hl=ru&authuser=1
Orcid: https://orcid.org/0000-0001-8144-0769