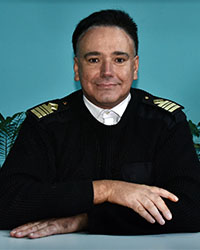 Ph.D in Physical and Mathematical sciences, Associate Professor
In 1997 he received a master's degree in physics with honors, graduating from Kherson State University.
2006 – received the degree of PhD of Physical and Mathematical Sciences in the specialty 01.04.07 "Solid State Physics", defending in the specialized Academic Council of Yuriy Fedkovych Chernivtsi National University. In 2011 – received the academic title of associate professor of natural sciences according to the decision of the Certification Board of the Ministry of Education and Science of Ukraine.
2013 – graduated from Kherson State Maritime Academy and received a basic higher education in the field of "Sea and River Transport" and obtained a qualification "Bachelor of Electrical-Enginnering".
Teaching disciplines: physics.
Research interests: Quantum-dimensional effects in nanostructures, nonlinear systems in physics, symmetry and group theory in physics, computer physics, boundary transition models in physics, artificial intelligence and artificial neural networks.
Research activities: Member of the editorial board of the European journal of physics education, member of the American Association of Physics Teachers (AAPT).
h-index (Scopus): 1, total number of citations – 33(https://orcid.org/0000-0001-7367-3669).
https://scholar.google.com.ua/citations?user=IfA9I94AAAAJ&hl=ru