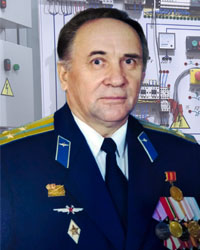 Candidate of Technical Sciences, Associate Professor, Professor of ESEZA
Education, scientific degree, academic title:
1966 – Kyiv Higher Air Force Engineering and Aviation Military School, specialty: operation of automatic, electrical and instrumental equipment of aircraft, qualification: military electrical engineer;
1974 – Candidate of Technical Sciences;
1987 – Associate Professor of Electrical Equipment.
Internship:
National University of Shipbuilding named after Adm. Makarova, Department of Ship Power Systems, 2018
Diplomas and awards:
He was awarded the medal "For Labor Valor" in 1981;
He has 12 awards.
Research interests: Power supply systems for autonomous facilities (aircraft and spacecraft, ships, etc.). Research of unified electric power systems of ships with electric propulsion. Investigation of electric propulsion systems for propulsion vessels with dynamic positioning.