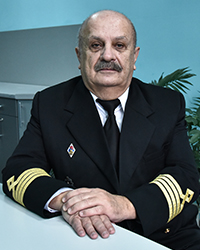 Senior lecturer, Deep-Sea Master
In 1990 he graduated from the Odessa Higher Naval Engineering School named after Lenin's Young Communist League
Specialty: Navigation on sea lanes, Qualification: ship engineer
Since 2002 – Deep-Sea Master
Until 2016, he worked as a specialist in the shipping company Primebulk Shipping Co. (Greece) on container and bulk fleet vessels.
Teaches disciplines: "Navigation and lotion"; "MPZZS-72"; "Organization of work and management of the ship's crew"; "Management of the resources of the navigation bridge" and has pedagogical experience of over 7 years in higher educational establishments.
Bloodless Vadym Oleksandrovych is a singer of the patent of Ukraine for a utility model number № 139980
Research interests: navigation and ship management.
Advanced training or internship: Kherson branch of the National University of Shipbuilding. adm. Makarova, certificate of advanced training (internship), № 20-004 topic: "Influence of external factors, ie drift and wear on the movement of the vessel in limited sailing conditions", 23.05.2017
ORCID: https://orcid.org/0000-0003-1648-8234
Google Scholar: https://scholar.google.com/citations?user=euAjPH8AAAAJ&hl=ru